Swordpunk is an, inclusive, out-of-doors, into nature, outside of the office world alternative festival of edged weapons and circus skills like no other. Our mission is to allow everyone to join in the fun and adventure of learning combat based and circus skills at their own level and intensity.
Whether you're fresh from the City or a seasoned martial artist, a proto-Robin Hood or a long-sword-swinging re-enactor, we have experienced instructors in an inclusive environment that will make it fun to learn and even more fun to interact with your fellow Swordpunks.
Swordpunk is overall a family. Whether you're learning knife-throwing, rope dart, sword fighting, unarmed combat, whip-cracking, axe-throwing or archery, you'll be amongst like-minded people. People who may be old friends – if you're a seasoned Swordpunk – or good friends you just haven't met yet.
And there's always time for sitting around the fire, taking a meal break or just chewing the fat. There's a lake for swimming and enough space and time to wander the breath-taking grounds of the estate and let nature sooth your thoughts
Swordpunk is an alternative festival of skills, the majority of which are combat based. Our mission is to make these skills accessible in a fun and inclusive environment with the added bonus of making us feel like adventurers.
It's about teaching you skills such as sword fighting, knife throwing, rope dart, whip cracking, archery and spear fighting. It's about sitting down to eat together, swimming in lakes and sitting around a fire with people you'll want to make friends with and stay friends with for a long time after the event.
Swordpunk is about finding ways to teach you skills you want to learn – whether you've never picked up a weapon in your life, you're a performer who wants to learn to crack a whip, a re-enactor who's never fought with fire swords or a swordsman who needs to polish up on your Winden am Schwert.
We have a very wide range of workshops running over the weekend, but there is always the freedom to wander off and spend time practising skills at your own pace – or just to wander off and explore the grounds of the estate! Go for a swim in the lake or a stroll through the sculpture park
Swordpunk A light in the Darkness review 'By the Sword'
Swordpunk A light in the Darkness review by Balefire Blades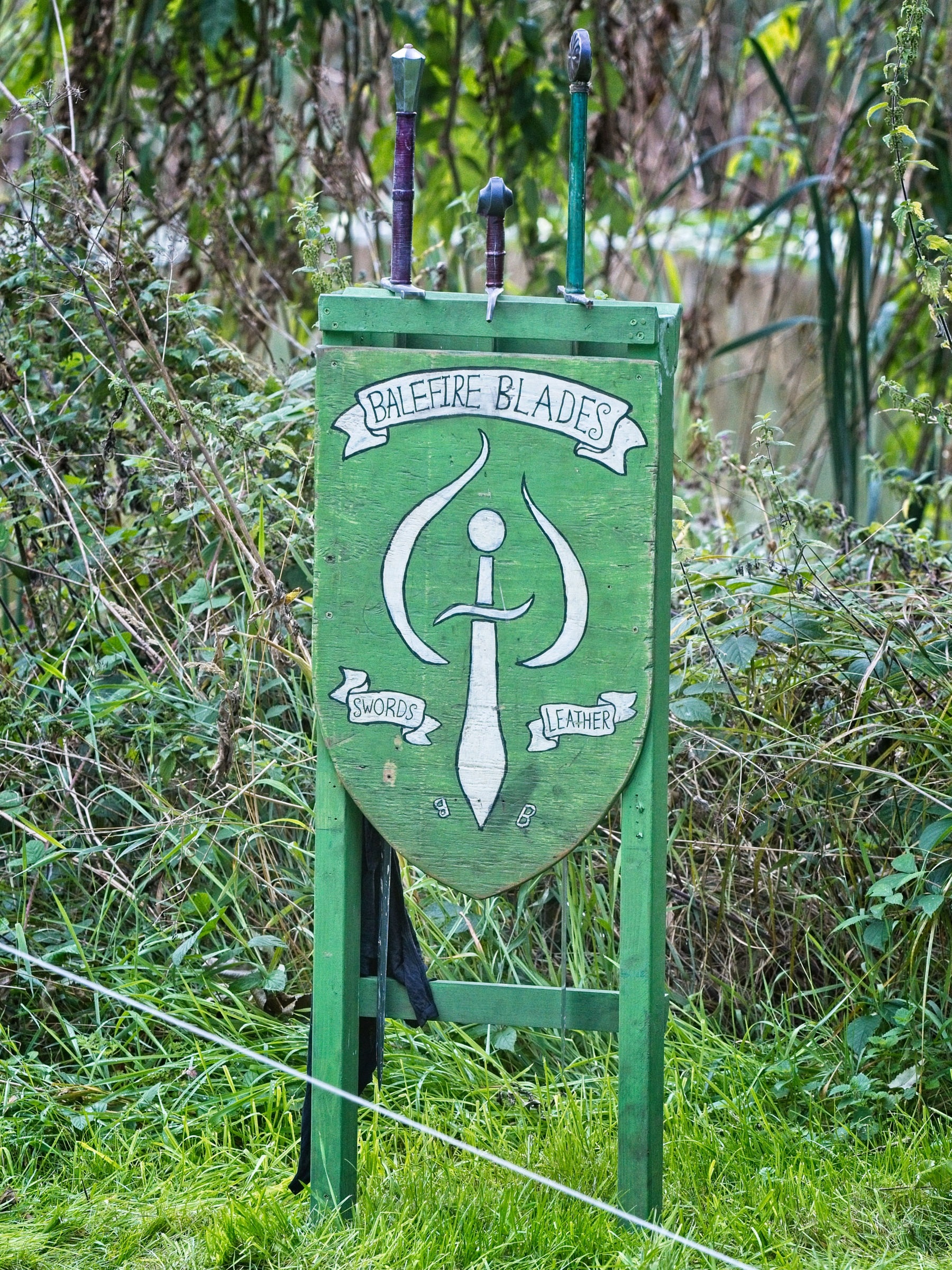 "We first got involved with Swordpunk in 2019, when we set up a demonstration forge. We were immediately hooked on the event's close-knit atmosphere, reminiscent of Robin Hood's merry men training and feasting together in the woods. When we were invited to return, we decided to show off Chris's handiwork with something new: a sharp cutting experience.

At the forge we deal exclusively with blunt-edged fencing swords, so it was a thrill to make some sharpened blades and test their mettle against 30kg of clay. We chose two longswords – one inspired by an early warsword with a broad, thin blade and the other a later, narrower design – and a Warding Sword for the task."

Read the full review HERE.