Book tickets for all upcoming events below. And you will find the option to book food for the weekend through the provisions form and a menu below.
Come warm your tired feet at the fire traveller, and let me tell you a tale of a gracious lord and a merry band of
adventurers and troubadours who quest for fun and enlightenment (and mead, let's not forget the mead!) through
the martial arts (and mead, did I mention the mead?).
A swarthy band they are (sorry, did I say swarthy? I meant swell!) skilled in many arts, all of which they will
happily share with you, whether you're a total novice or a seasoned practitioner.
Swordfighting, HEMA, Fencing or Swashbuckling to Please a Crowd, Polearms and Martial Arts (What to do when your sword/axe/spear isn't to hand, and even what to do once you've captured an opponent!)
Instinctive Archery, Knife, Axe & Spear Throwing, Rope Dart, Whip Cracking and an Air Rifle Range
Juggling, Balancing, Gunslinging, Lassooing and Other Circus Skills
Meet the local Blacksmith at his workshop and you'll also get to learn some Spoon Carving and Basic Coppercraft
Brave the depths in the "sturdiest" of crafts and battle it out on the water
Feasting, Fire, Drumming, Dancing & Drinking,
Whether you're returning to meet old friends and best old rivals (who are really also old friends) or entering the
arena for the first time to learn or prove your worth they'll welcome all with open arms and a smile upon their lips. There's always a seat at the table for friends old and new so come break your fast with us (or any other meal we're
not going to starve you here).
After a day working up a sweat in the sun there's plenty to entertain as the sun goes
down. From watching the most skilled in their arts perform acts of daring-do (or joining in yourself) and fire magic
to raising a glass in the Shattered Shield or swaying to the sounds of strange and rhythmic beats in Rebel's Corner.
Yet, still I've not told you all. For the clans gather on a Saturday night in their finest regalia to strut, drink and
gather around the fire late into the night. Even the days are filled with more than the lessons of war with fiercely
contested competitions such as the tug-of-war or boat jousting and the less planned activities that crop up with no
warning (like cheese and port on a Sunday afternoon whilst watching the bow battle unfold in front of you).
There's more to see and do than one visit will ever reveal but once you've been welcomed in you'll want to come
back. And there's the rub, enter this garden in gentle England and be sure you'll have an adventure to remember,
but be warned. The fair folk you meet will cast their spell and only the strongest of will can turn their backs and
never return again. You have been warned traveller!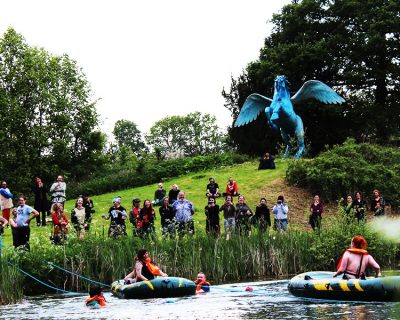 Deposit remainders due by August  5th
If you are buying tickets for multiple people please provide us with all of their names and emails in the box below for reference and event updates.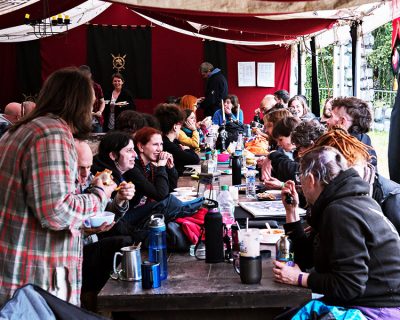 Meat, Vegetarian & Vegan Options Available
If you would like to notify us of any allergies please drop Molly a message HERE and we'll try our best to accomodate

Friday
Dinner
Served with Free From Pasta and a Mixed Leaf Salad
Meat Option: Minced Meat Spagetthi Bolognese
Vegetarian & Vegan Option: Vegetable Spaghetti Bolognese
Saturday
Breakfast
Served with Porridge or Muesli
Meat Option: A choice of Bacon or Sausage served in a roll/bread
Vegetarian and Vegan Option: A choice of Fried Egg or Veggie Sausage served in a Roll
Lunch
Tomato Soup with a choice of sandwiches
Ham Salad
Cheese and Pickle
Mixed Leaf Salad and Home-Made Sunflower Seed Hummus
Dinner
Served with Rice, Nachos and Mixed Leaf Salad
Gluten Free Option: Jacket Potatoes and Mixed Leaf Salad
Meat Option: Minced Meat Chilli Con Carne
Sunday
Breakfast
Served with Beans, Herby Mushrooms, Plum Tomatoes and Potato Hash Browns
Meat option: Sausage
Vegetarian and Vegan Option: Veggie Sausage
Lunch
Sweetcorn Chowder served with Crunchy Bread Rolls, Mixed Leaf Salad and Coleslaw