Book tickets for all upcoming events below
We hope you'll be with us for our September event!
You can arrive from 4pm on Thursday and the event will be rammed with swashbuckling sword skills, martial arts, target sports, circus skills, boat jousting and bow shootouts, blacksmithing and other crafts on the beautiful grounds of a private estate in Warwickshire.
Over the weekend you'll choose six one hour sessions in the disciplines of your choice, with detailed tuition from our high quality instructors, all of whom are there to help you develop at your own pace whatever your skill level.
Swordfighting, HEMA, Fencing or Swashbuckling to Please a Crowd, Polearms and Martial Arts (What to do when your sword/axe/spear isn't to hand, and even what to do once you've captured an opponent!)
Instinctive Archery, Knife, Axe & Spear Throwing, Rope Dart, Whip Cracking and an Air Rifle Range
Juggling, Balancing, Gunslinging, Lassooing and Other Circus Skills
Meet the local Blacksmith at his workshop and you'll also get to learn some Spoon Carving and Basic Coppercraft
Brave the depths in the "sturdiest" of crafts and battle it out on the water
Feasting, Fire, Drumming, Dancing & Drinking,
And we don't just fight and play together. We feast, drink and party, too! Old comrades meet again and new friends are welcomed just as warmly at the Shattered Shield Tavern.
On Saturday night we dress in our finest costumes as assassins and amazons rub shoulders with paladins and pirates.
Watch (or even join in with!) the infamous Swordpunk Fire Circle, where fire and circus performers are joined by dancers, duellists, drummers and warriors with flaming weapons.
Then dance the night away in Rebels Corner, a cave of trees filled with the beats of drummers and blacksmiths by day and by the break beat mixes of our incredible live DJ by night.
Scheduled classes run over Friday and Saturday with Freeplay and Skillsharing on Sunday. And on Sunday afternoon join in with the Bow Battles, Boat Jousting and Space Hopper jousts!
With so many activities on offer it can all seem a bit exhausting so you're welcome to take things at your own pace and, at any time, go for a wander or relax on the beautiful estate, designed by Capability Brown.
We look forward to seeing you there!
The Swordpunk Team
SPXIII Tickets - Book Here
Swordpunk now runs from Thursday to Sunday early evening, however we understand that not everyone can get the time off work so we provide two ticket options:
Thu – Sun,  £180 
Fri – Sun,  £150 
All purchases are non refundable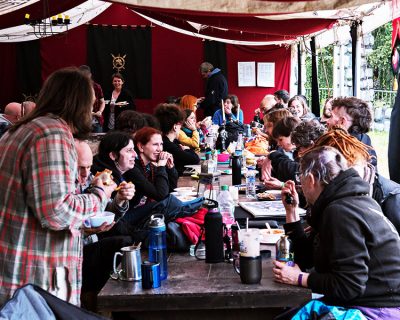 The meals at Swordpunk will be organised by Fasta Nourish – plant based bowls of nourishment, with many local and organic ingredients.
The main meals will come with a selection of salads, sauerkraut and various sauces so that you can customise your meal to your liking.
There will be options of many different cuisines such as Thai, Mexican, Moroccan and Italian…
There are non vegan extras available too for those glorious Carnivores!
Book in advance to help us get better prepared to reduce queues and food waste!