Book tickets for all upcoming events below. And you will find the option to book food for the weekend through the provisions form and a menu below.
"The year is 2020, it's the Future!
Empires Strike Back as resources dwindle, it's madness to the Max!
And with old alliances being torn apart it can feel like we're heading towards a dystopian vision.
But all is not lost! Whether you're a seasoned veteran or budding adventurer we want YOU to join this rag tag bunch of Rebels at Swordpunk in May to shine a light in the dark and leave invigorated with new friends and a new hope…
As a response to the current rise of Chaos, we at Swordpunk are pleased to offer many tickets at reduced prices. Be sure to take advantage of the first few waves.
We hope you'll be with us for the best of weekends, rammed with swashbuckling sword skills, martial arts, target sports, circus skills, boat jousting and bow shootouts, blacksmithing and other crafts on the beautiful grounds of a private estate in Warwickshire.
Over the weekend you'll choose six one hour sessions in the disciplines of your choice, with detailed tuition from our high quality instructors, all of whom are at there to help you develop at your own pace whatever your skill level."
Swordfighting, HEMA, Fencing or Swashbuckling to Please a Crowd, Polearms and Martial Arts (What to do when your sword/axe/spear isn't to hand, and even what to do once you've captured an opponent!)
Instinctive Archery, Knife, Axe & Spear Throwing, Rope Dart, Whip Cracking and an Air Rifle Range
Juggling, Balancing, Gunslinging, Lassooing and Other Circus Skills
Meet the local Blacksmith at his workshop and you'll also get to learn some Spoon Carving and Basic Coppercraft
Brave the depths in the "sturdiest" of crafts and battle it out on the water
Feasting, Fire, Drumming, Dancing & Drinking,
And we don't just fight and play together, we feast, drink and party too when old comrades meet again and new friends are welcomed just as warmly at the Shattered Shield Tavern.
On Saturday night we dress in our finest costumes as Jedi and Sith, Survivors and Wasteland Warriors rub shoulders with Assassins and Amazons, Paladins and Pirates.
Watch (or even join in with!) the infamous Swordpunk Fire Circle, where fire and circus performers are joined by dancers, duelists, drummers and warriors with flaming weapons.
Then dance the night away in Rebels Corner, a cave of trees filled with the beats of drummers and blacksmiths by day and by the break beat mixes of our incredible live DJ by night.
On Sunday the classes continue, then in the afternoon join in with the Bow Battles, Boat Jousting and Space hopper jousts!
With so many activities on offer it can all seem a bit exhausting so you're welcome to take things at your own pace and at any time go for a wander or relax on the beautiful estate, designed by Capability Brown.
We hope you'll be with us in Force…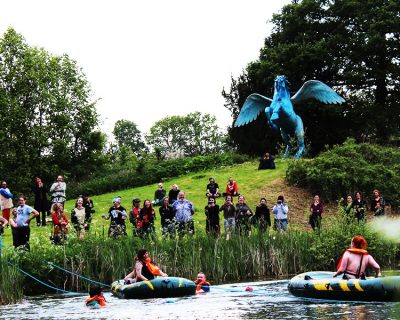 Swordpunk A Light in the Darkness - Tickets
Reserve your space with deposit only, the second installment due date is Friday 3rd April 2020. This option is equivalent of the full price tickets.
If you are buying tickets for multiple people please provide us with all of their names and emails in the box below. We need this so we can send you the details of the event. If you're purchasing a ticket as a surprise gift please let us know so we don't ruin it.
Please note tickets are non-refundable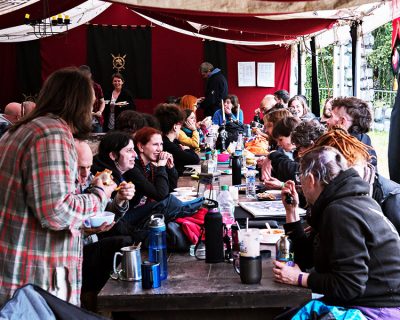 Swordpunk A Light in the Darnkess - Food
Updates on how to order food for Swordpunk A Light in the Darkness will be available soon.
Friday
Dinner
Served with Free From Pasta and a Mixed Leaf Salad
Meat Option: Minced Meat Spagetthi Bolognese
Vegetarian & Vegan Option: Vegetable Spaghetti Bolognese
Saturday
Breakfast
Served with Porridge or Muesli
Meat Option: A choice of Bacon or Sausage served in a roll/bread
Vegetarian and Vegan Option: A choice of Fried Egg or Veggie Sausage served in a Roll
Lunch
Tomato Soup with a choice of sandwiches
Ham Salad
Cheese and Pickle
Mixed Leaf Salad and Home-Made Sunflower Seed Hummus
Dinner
Served with Rice, Nachos and Mixed Leaf Salad
Gluten Free Option: Jacket Potatoes and Mixed Leaf Salad
Meat Option: Minced Meat Chilli Con Carne
Sunday
Breakfast
Served with Beans, Herby Mushrooms, Plum Tomatoes and Potato Hash Browns
Meat option: Sausage
Vegetarian and Vegan Option: Veggie Sausage
Lunch
Sweetcorn Chowder served with Crunchy Bread Rolls, Mixed Leaf Salad and Coleslaw